The Roberto Family's Legacy in Research & Public Health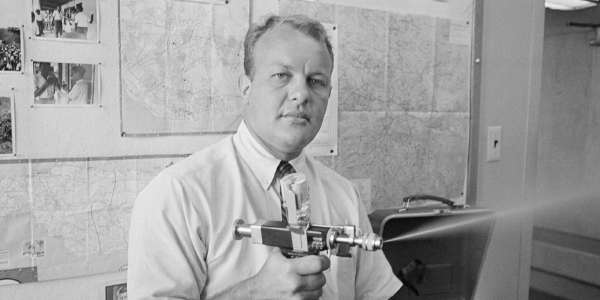 Dr. Roberto and the vaccine gun used in Tonga to vaccinate against smallpox in 1965. (AP Photo)
In early 2022, La Jolla Institute for Immunology was pleased and honored to be notified of a gift from the Roberto Family Trust.
Dr. Ronald R. Roberto was a successful and passionate epidemiologist who spent the bulk of his career working for the Centers for Disease Control (CDC) and the California Department of Public Health. Early in his career, he worked at the CDC in Atlanta, where he led a team that developed a "vaccine jet gun," and was instrumental in ultimately eradicating smallpox!
Dr. Roberto's research saved untold lives and had significant positive implications for the future of human health. Now LJI will proudly carry his torch, and ensure that Dr. Roberto's legacy supports research that continues to further the field of immunology, in pursuit of life without disease.
To enable this generous gift, Dr. Roberto and his wife Genevieve worked with Bank of the West to create a trust, listing LJI as one of its beneficiaries. Naming a qualified charity, such as LJI, as a beneficiary in your will, trust, insurance policy or retirement account is a powerful way to support the causes important to you. You can learn more about how, view sample bequest language and even download our free estate planning guide here.
If you have already named LJI as a beneficiary, please consider letting us know by completing a bequest intention form (which you can download from our website here). This way we can be sure to honor your gift according to your wishes, and welcome you to LJI's Legacy Society. And as always, if you have any questions about a planned gift or LJI in general, please don't hesitate to reach out to us anytime.