How John Kraemer amplified his impact through creative giving and inspiring others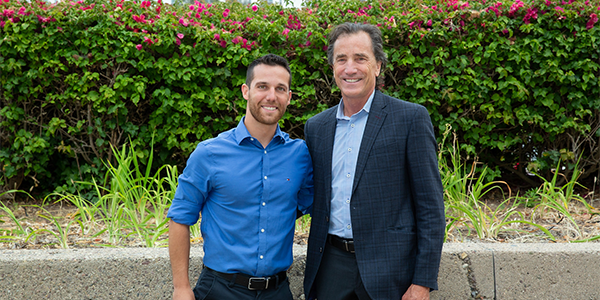 John Kraemer with one of La Jolla Institute for Immunology's SPARK Award winners, Simon Brunel, Ph.D. John's gift helped to enable Dr. Brunel to pursue research in answer to the question: "Can we cure autoimmune diseases with a single therapy?"
John Kraemer is a San Diego native with more than 30 years of experience in insurance and estate planning, business and family governance, and philanthropic planning. He is also a co-chair of LJI's Planned Giving Advisory Council (PGAC). His thoughtful approach helps families to consider their gifts carefully and optimize benefits to both the donor, their family, and the charitable beneficiary. When John decided to make his own gift, he looked to the same techniques to leverage his gift and motivate others to give too.
Enthused by the cutting-edge research underway at LJI, John set out to inspire several groups in his network to join together in support of The Tullie and Rickey Families SPARK Awards for Innovations in Immunology program at the Institute.
He first approached Partners Financial Charitable Foundation, a private foundation he knew was looking to make grants to address the COVID-19 pandemic. Indeed, they decided to offer a matching program for insurance professionals in their network, and thereby add to John's original gift amount.
Next, as a trustee of the Rosemary Kraemer Raitt Foundation, John presented LJI materials to his co-trustee who was inspired to support an additional gift, adding to the total.
Finally, with the help of LJI's Advancement Department, John invited his fellow PGAC members to make additional gifts.
Ultimately, John was successful in galvanizing others to enable a gift of over $20,000 to the SPARK program. The funds support the research of Simon Brunel, Ph.D. who is looking into a novel approach to the treatment of autoimmune disease.
Combining different types of gifts in this way is a wonderful example of how an individual can inspire others to support LJI and the work being done with autoimmune disease, cancer, COVID-19, and other infectious diseases.
John answered the question, "Why do you support LJI?" in this way:
"As a person with close family members living with autoimmune issues, the important research LJI does is near and dear to my heart. It gives my family hope for a brighter future, one less impacted with the challenges of not only the initial autoimmune illness, but the resulting health issues that follow. Private philanthropy is critical to allowing organizations like LJI to move quickly in times of need and opportunity, to carry out the critical initial research that can become the catalyst for more significant long term clinical trials and medicine development. I am excited to support LJI and want people to know that there are many creative ways to give in support of its mission."