Why Nancy Vaughan named LJI as a beneficiary in her living trust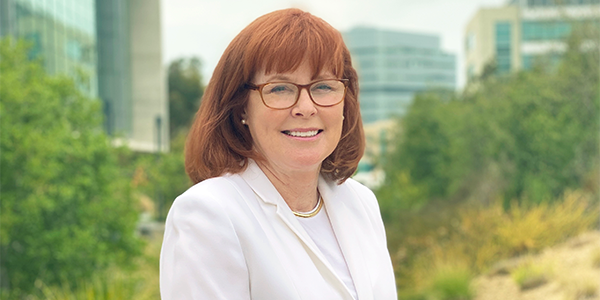 Nancy believes in a Life Without Autoimmune Disease and because of her faith in LJI's work, management, and capacity to impact human health into the future, she has included the Institute as a beneficiary in her trust.
Nancy Vaughan has enjoyed a varied and successful legal career, first as a criminal prosecutor and then in civil practice where she represented healthcare providers in civil lawsuits. Her success as a trial attorney led to an invitation to become a Master in the newly created Louis M. Welsh American Inn of Court, and to membership in the San Diego Chapter of the American Board of Trial Attorneys. For many years she has taught Bioethics as an adjunct professor at California Western School of Law, and currently enjoys tutoring refugee students at a local charter school. Nancy was introduced to flying by her former husband, so in her free time, Nancy has been flying her Cessna 182 all over the United States and Mexico, experiencing many aspects of the country that she knew nothing about, having grown up in Coronado. One of her most memorable adventures occurred after landing along with members of her flying club, at Laguna San Ignacio (Baja California), where they were able to watch gray whales from a Panga-boat; Nancy was able to actually kiss a newborn California Gray whale while mama whale looked on!
Nancy has always believed in responsible philanthropy, putting careful thought into the causes she chooses to support. She has served on numerous non-profit boards, has been a member of Rotary International for over 20 years, and volunteers with animal welfare organizations. Fifteen years ago, she was introduced to the La Jolla Institute and she remains a loyal fan. She was invited to join LJI's Institutional Review Board where she applies her expertise in ethics to review and approve applications for research projects involving human subjects. It was five years ago that she let us know that, because of her faith in LJI's work, management, and capacity to impact human health into the future, she had included LJI in her trust. Nancy shares more about this below:
"After first being introduced to La Jolla Institute by a friend, I was immediately hooked by all of their interesting scientific research on auto-immune disorders and with their goal of Life Without Disease. I personally believe in having a plan for my estate, since I feel it is important not only to remember those close to me when I am gone, but to make certain that the nonprofits that are most important to me are included as well (my interests vary from animal welfare, to science, to civil rights, education and beyond.) I created my living trust so that I would not worry about my family or my wishes, and I am pleased to say that La Jolla Institute remains a beneficiary!"
Click here for suggested language and other helpful information to help make the process of adding the Institute as a beneficiary quick and easy.